Managed Services (CCTV)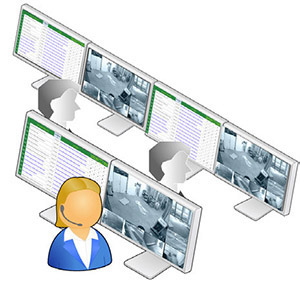 Most CCTV systems are not monitored live and are only accessed when there has been an incident. It is generally at this time when problems are discovered: Cameras that were not working or hard drives that have failed or power that has been inadvertently (or deliberately!) turned off. To improve the outcome, they achieve with their CCTV systems more discerning users are changing the approach to how they use their systems and seeking CCTV hardware monitoring – this is not to be confused with camera activity monitoring. Automated health diagnostics addresses these requirements as the system sends alert messages relating to faults such as recorder, camera and HDD failures to a diagnostics cloud server. It can also send alerts if a system isn't achieving the nominated minimum recording duration which can be a critical compliance requirement. These pro-active alerts not only result in quicker response times to problems but consequently lower cost. Many CCTV users are now partnering with "design and construct" CCTV specialist organisations to provide "managed CCTV services" from system conception to beyond the life expectancy of individual components and technology.

In Australia labour is expensive and the cost of having technicians onsite to analyse faults can be overcome by remote analysis. Many issues can be qualified remotely and potentially resolved without a technician attending site. 'Live' support options enable a remote technician to connect directly to the recorder or a client PC at the CCTV site. The 'remote technician' can either take control of the session and resolve the issue or visually guide the User on-screen how to complete the task to resolve any issues. This method is much faster and more cost effective than waiting for a technician to attend site. There are further benefits to this service particularly when there are multiple sites. Maintaining uniformity with systems deployed across multiple sites can be challenging when different technicians attend. Centralised management of CCTV systems allows systems to be commissioned and audited remotely improving outcomes and consistency..
Key Benifits
Reduce cost of maintaining remote sites
Proactive fault diagnostics and alerts
System fault audit trail in the cloud
Live remote support for staff at your remote sites
Faster issue resolution and minimum down time
Often eliminates the need to send a technician to site, which can be more costly
Proactive detection of suspicious login activity, often a precursor to a cyber attack
End users can be trained on how to effectively use and maintain their CCTV at the remote site
Ability to audit CCTV installations, which ensures consistancy & compliance
Offering a single point of accountability and contact for rapid resolution