Common fixed camera body styles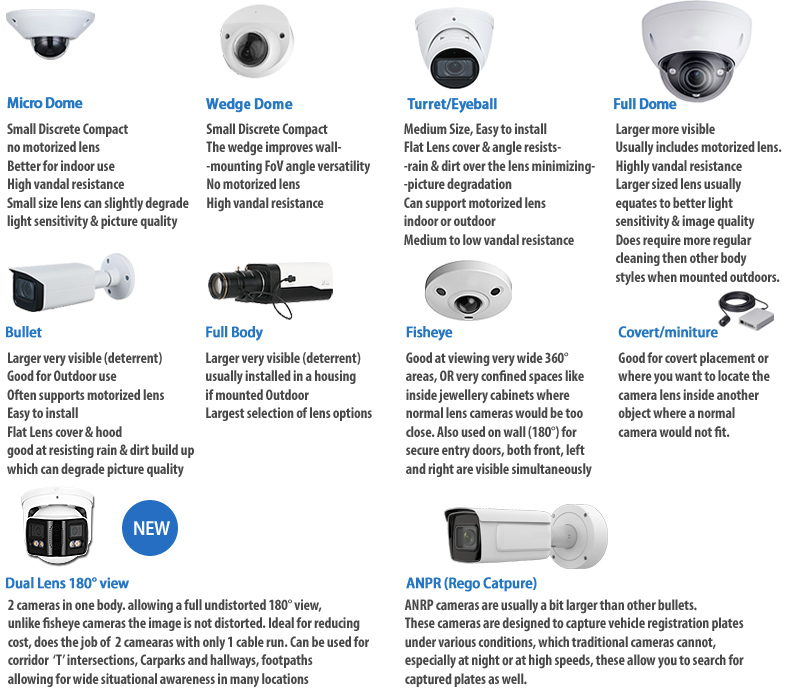 General Types of CCTV Cameras
CCTV cameras and their core features can be broadly divided into the following categories or types
Fixed Cameras
PTZ (Pan Tilt Zoom) manoeuvrable Cameras
Non-A.I. capable cameras
AI cameras. That use AI deep learning to examine the video and distinguish certain objects or behaviour
People Counting, Occupancy monitoring, Queue management Cameras
ANPR (Automatic Number Plate Recognition) cameras for vehicle plate capture
Active Deterrence cameras (sometimes called 3 in one cameras)
Vandal Resistant (i.e. IK rated)
Full Colour cameras:, these are designed to operate in 'Full Colour' 24/7 including at night
Thermal cameras that detect heat and temperature variations
Pinhole and covert cameras, designed to be small & discrete often hidden behind or inside other objects
Fisheye or panoramic cameras, these cameras can give you a 360° or 180° view of an area.
Fixed cameras
Fixed cameras are cameras that permanently point at the same relative area. Fixed cameras are the most common form of CCTV camera. Many of the fixed camera well sell also include a 'motorized' zoom lens. Although a bit more expensive than models with a 'manual' lens, a motorized lens model allows you to remotely zoom the camera in closer to an area, or zoomed out wide to capture more area.

PTZ cameras
PTZ (Pan Tilt Zoom) cameras give you the ability to manoeuvre and zoom the camera to look at different locations. PTZ cameras come in many different form factors and feature sets. Some are small mini PTZs that usually have a 4x optical zoom and limited panning, to larger models supporting 45x optical zoom, endless panning and A.I functionality. Many higher end PTZ cameras now come with multiple lens, so one lens can be looking at a different location, while the other lens can be pointed at a completely different location. This means you are really getting multiple multiple cameras with this one camera which should be considered when evalulating the true cost of this type of camera. With PTZ cameras you pay for the optical zoom capacity, number of lenses, resolution and video analytic feature set. Below: PTZ camera styles

Different features available from selected PTZ models
Ability to optically zoom into an area, up to 45X optical zoom available on some models
Ability to 'track' people over a distance using A.I deep learning
Ability to distinguish objects as 'human' or 'motor vehicle' using A.I deep learning
Ability to cover a wide area (i.e. Ovals, transport hubs, parks, school playgrounds)
Multi lens models allow you to cover multiple areas simultaneously
Can be integrated into existing alarm sensors, like door sensors (i.e when a door opens the PTZ goes there)
A.I cameras
AI (Artificial Intelligence) cameras support some form of A.I video analytic, the most common types of A.I include SMD (Smart Motion Detection) and PP (Perimeter Protection). Other types include FD (Face Detection), FR (Face Recognition), PC (People Counting), AT (Auto-tracking), Mask detection, PPE detection and VM (Video Metadata [human, vehicle attribute detection])

Active Deterrence Cameras
Active Deterrence cameras, often referred to as 'three in one cameras' are a relatively new type of camera. These cameras include an inbuilt speaker, microphone, and LED White lights. They are called 'Active Deterrent cameras' because they have the ability to make a sound and flash LED lights when an event occurs. So when an event is triggered an audible siren, or a pre-recorded voice message will sound, also you have the option to have flashing LED lights. You can also manually trigger the siren, voice or flashing lights from your mobile phone. These cameras also support 2 way audio. Common uses include:
When someone intrudes into an area, a voice message or alarm sound is played
Play a message &, or flash lights when someone crosses a certain area, to let them know they are being observed
When the number of people in a room is too high, play pre-recorded message
What do you pay for in a camera (differences in cost)
Some of the factors that determine the price of a camera are listed below.
The Quality & performance of the cameras CMOS sensor & digital signal processor
The power of the Cameras CPU; AI functionality requires a powerful CPU
Types, & quality of analytics supported by the camera
The resolution supported by the camera, typically 2MP(1080p⁄FHD), 4MP(QHD), 5/6MP and 4K(UHD)
Type and quality of the lens, a really good lens can cost more than the camera itself
The cameras IK vandal resistance rating (ability to withstand impacts)
The cameras IP ingress protection rating (ability to withstand water and dirt ingress)
Other features like inbuilt microphone, inbuilt speaker, additional LEDs, IRs, alarm I/O
PTZ (manoeuvrable) cameras usually cost more than an equivalently featured fixed camera
Choosing the right Camera
Before you choose a camera, you need to be clear on what you are using it for. There are many different uses for a CCTV camera. Certain cameras are better suited to certain uses. Below is a list of some common uses and recommended camera types and features.
General Surveillance, Detection (Something is happening here)
General fixed HD camera.
UHD (4K) cameras can usually provide better outcomes
Identification ⁄ Recognition (Who is it)
A.I Face Detection HD model appropriately framed up and connected to an A.I NVR
General HD camera that is appropriately framed up and connected to an A.I NVR
Monitoring Hotspots and construction sites
A.I Active Deterrence camera with Perimeter Protection
A.I PTZ camera
ANPR (number plate capture)
External battery powered covert camera
4G connection kit (optional)
Equipment and machinery monitoring
PTZ camera
Dual Thermal monitoring camera
A.I Active Deterrence
4G connection kit (optional)
Promotional (allow visitors to view other activities across a venue or tourist site)
4K camera with RTMP support
4G connection kit (optional)
Car Parks
4K camera
ANPR (number plate capture)
Multiple FHD cameras
Dance floors, showrooms
6MP or 12MP Fisheye cameras combined with multiple HD cameras
Multiple Low light FHD camera
Large auditoriums, Sporting Fields
Large PTZ with integrated multi lens
Health and Safety
AI camera or A.I recorder with mask detection
AI camera with people counting and queue management
AI camera with PPE detection (detect if person is wearing safety helmet or vest)
Body temperature measurement camera, sometimes incorrectly referred to as 'fever cameras'.

(Caution should be taken when using these types of cameras, due to TGA regulatory requirements, contact sales for further info)
Covert, Hidden
Pinhole camera
Other specialty cameras hidden inside common objects
Other Considerations
Because A.I functions are very CPU intensive, using an A.I IP cameras in conjuction with an A.I recorder allows more 'A.I' functionality by freeing up resources on the recorder.
4K cameras do require more storage on the recorder, so you may need to add additional storage to support these cameras.