CCTV Recorders, VPU's and NPU's
CCTV recorders come in many different shapes and sizes with a diverse range of feature sets, technologies, storage capacities and redundancy options. Due to the explosive growth in AI (Artificial Intelligence) in video surveillance there are also new types of emerging hardware that may sit between the recorder and the camera, which are a VPU (Vision Processing Unit) or an NPU (Neural Processing Unit). Some enterprise level recorders have this hardware integrated, while others may require a separate piece of hardware. (if supported at all). All our recorders are compatible with the Australian made Freedom VMS software which is an intuitive point and click video management software solution that is Multi-Platform compliant.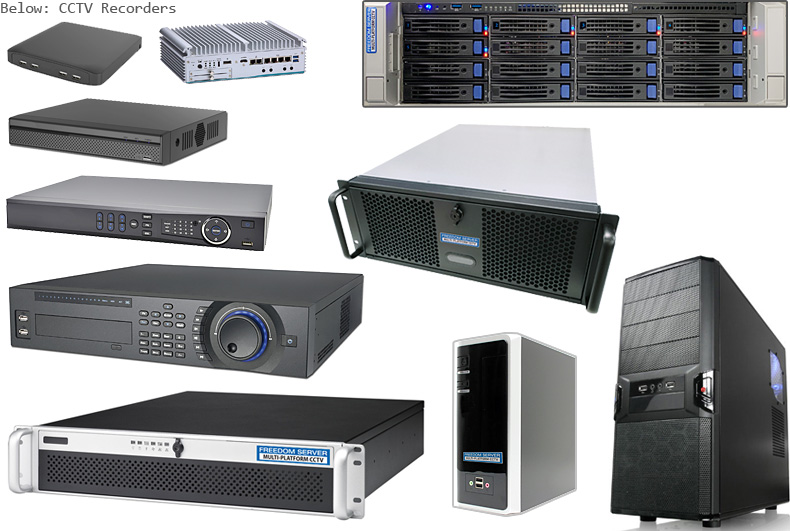 Types of CCTV Recorders
There two main families of CCTV recorders, these are, 'embedded' recorders and 'PC Based' recorders. Both have Benefits and disadvantages, although some can apply to both I will generalise those as being most commonly found in each.
Embedded Recorders

Embedded Recorders can be divided into two main types. 'NVR' and 'CVR' models, each of these can also be divided into 'AI' and 'non-AI' models.
NVR models exclusively support the recording of IP cameras over a computer network cabling (cat5e, Cat6, Cat7). CVR recorder models also support IP cameras or a network, but additionally support COAX camera technologies, like HD-CVI, HD-TVI, CVBS. Embedded recorders have the following benefits compared to PC based recorders.
Benefits
Usually cheaper then PC based recorders
Usually have a smaller footprint (are smaller in size) compared to PC based recorders
While the quantity and variety of AI feature are not as extensive as many PC based recorder models, they offer AI functionality at great value
Disadvantages
AI Processing usually not as powerful as PC based CPUs and GPUs
Cannot provide the level of redundancy that PC based recorders can offer
If you require longer footage retention periods, generally PC based recorders offer a greater maximum storage capacity as well as additional storage options
Because the feature-set and OS are embedded, they cannot be changed, to support new features or protocols unlike a PC based solution
PC Based - Freedom Server Recorder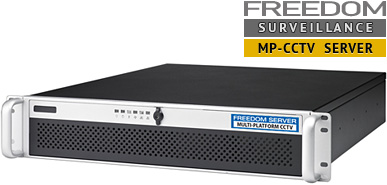 Freedom VMS Server is a PC based enterprise recorder supporting all major CCTV technology protocols and cabling technologies. Supported technologies include UHD-IP, ONVIF, HD-CVI, HD-TVI, AHD and CVBS. The Freedom Server recorder was created to provide clients a versatile surveillance platform that supports any technology and provides an easy update path to add additional and or improved technologies (like AI and other forms of video analytics) without having to replace your recorder. Freedom Server is Australian made and supported, we support 'Australian' CCTV standards, being one of the first VMS to be officially approved by state government for Facial Recognition self-exclusion in gambling establishments.
Freedom Servers also include recording retention alerts to warn venues if their recording storage is not being met as per their liquor license or other jurisdictional requirements. A major feature that sets Freedom Server recorders apart from embedded recorders are the Managed Services options which include enterprise health diagnostics and User support options. This feature is included with most SLA's. This allows a remote support help Technician to login to the system remotely and either aid the end-user in performing a task, or allows quick issue resolution which reduces the cost of ownership by often saving expensive site call-out fees and reduces the time your staff spend on issues relating to the CCTV system. For organisations with multi-sites this also allows for a centrally managed consistent outcomes for their CCTV system.
Freedom Server recorder also support multiple redundancy options including Mirrored OS, Storage RAID 1, 5, 10, cloud⁄NAS backup, and dual power supply options. Freedom Server Pro™ supports transcoded playback, which re-encodes the HD main-stream recording to a choice of 3 lower bitrate transcode profiles to allow playback over low bandwidth connections from remote sites. Freedom Server and Freedom Clients support synchronised playback across multiple recorders from multiple manufacturers concurrently while utilizing intuitive eMap navigation on live view and playback
Benefits
Greater ability to expand camera quantity & feature set compared to embedded
Enterprise redundancy options, including mirrored OS, RAID storage & cloud backup
Larger storage retention options than embedded (up to 288TB)
Faster network backup⁄export performance, especially useful when backing up larger quantity of cameras or hours, compared to embedded recorders
More powerful CPU⁄GPU then embedded units allowing for more AI channels
Option for immediate live User support and remote maintenance, reducing cost of ownership
Disadvantages
More expensive upfront cost
Units are generally larger in size than most embedded recorders