About Surveillance Software
A well designed CCTV Surveillance application allows the operator to navigate to a given camera in a short period of time, and quickly search footage based on a date/time or alarm event. Surveillance software should have a level of customization to suit the particular industry sector.
Freedom Surveillance© VMS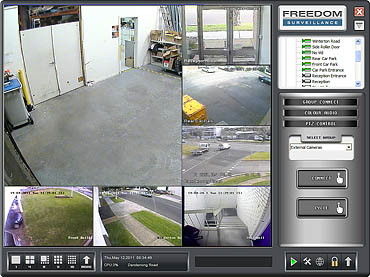 Freedom Surveillance© is developed in Melbourne, Australia and is designed to be MP-CCTV compliant, which means Freedom© can manage digital video from multiple CCTV technologies, including Maxima, Omega DVR's, HD-SDI cameras, 960h cameras and IP cameras. One of the unique features of Freedom© is known as
'E-map Playback' which allows the user to select cameras to playback from a visual map interface, instead of the usual camera list, in which the user must have prior knowledge of what cameras are where, before selecting the camera. Other improvements in the user interface makes selecting cameras and reviewing cameras easier than ever before, even if the user ( i.e law enforcement ) is un-familiar with the site. Freedom© supports multi-camera synchronized playback, and up to 36 frame live video displays.
Camvex Touch CCTV interfaces
While most CCTV applications give you the ability to create rudimentary CCTV maps, Camvex offer's its clients an intuitive touch interface, based on a real visual representation of the locations the cameras are covering, pointing to a location takes you to that location. To view video samples of some of the interfaces click here.
Our touch interface, has to be seen to be experenced. You are welcome to call and book a demonstration at our Clayton Showroom ( Ph. 03 95434844 ).

Click on the images below to see a larger version.