Sony - Realshot Manager Advanced
RSMA (Realshot Manager Advanced) is an easy to use and set up Video Management Software (VMS) developed by Sony. Sony have many product options that allow for a transitional upgrade from analogue system by using multi-channel encoders. These devices allow you to plug in analogue cameras which then give you the ability to record or view each camera over a LAN or WAN. Sony have encoder models that support their Advanced DEPA technologies and edge storage options.
Sony Professional Security Hardware
We make no secret about our strong relationship with Sony, and that's because Sony cameras keep on impressing us with the results. Sony's Gen 5 IP/Onvif cameras offer the advanced features and reliability that you would expect from a company that has been making video devices for the professional and consumer market for decades. To see some of Sony's leading edge security technologies click the button below.

Video Analytics
Because Realshot Manager Advanced has been written by Sony, this application provides the most advanced support for Sony's amazing video analytic technologies, collectively known as DEPA.
DEPA Analytics
Depa Advanced — (Distributed Enhanced Processing Architecture) Sony's DEPA Advanced technology can trigger an alarm based on user-defined rules, such as "Intelligent Motion Detection" that can detect irregular motion and trigger an alarm, "Tamper Alarm" that detects tampering and triggers an alarm, and "Advanced Audio Detection" that alarms based on ambient sound conditions. This allows users to further refine the criteria for triggering an alarm, making the overall system more efficient and accurate.
There are three broad classes of video analytics available today.
Diagnostic analytics alert system administrators to blocked camera views or scene changes that may be indicative of tampering or obstructions. If a camera is dislodged from its housing, spray painted, moved or blocked, for example, the analytics will transmit an alarm and allow security personnel to rectify the problem with minimal delay.
The second class of analytics is security-related. This configuration can automatically alert security staff to suspicious events, such as a perimeter breach, an unattended bag or a person loitering around an ATM.
The third category is behavioural analytics, such as people counting or queue length monitoring, which provide organisations with valuable operational intelligence and metrics that marketing teams or senior management can use to increase sales and improve customer service.
Many Sony IP cameras now have DEPA analytics inbuilt into the camera itself. These features were previously only available on expensive NVR's/DVR's. The list below outlines some of Sony's video analytic applications.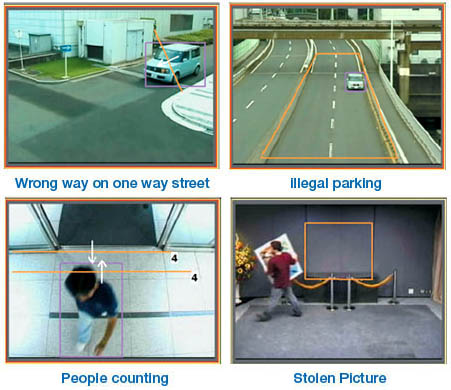 Motion Detection
Detect if a targeted object is moved ( Picked up )
People counting ( How many people went through a door )
Detect illegal parking
Detect wrong way traffic on one way street
Detect Sound
Alarm triggers can now be used to trigger a voice alert
Analytic video meta data is also used by 3rd parties to track sporting events (i.e. football)
Sony's video analytic technologies are considered some of the best in the industry, click on the link below to see some examples


Hot Spot Monitoring — Hot spot monitoring is supported on both single and dual monitors . A hot spot area is used to display a live video of an important event or action i.e. alarm that is taking place. RSMA uses a drag-and-drop operation (camera switching) . Sony Realshot Manager also supports zoom directly from the video tile itself, which is very intuitive method of performing this action.
Playback Playback is also very intuitive and footage can be filtered by Motion, Alarm, or Schedule. Layouts can be created and customized via the 'Layout Editor ' which is a powerful feature that creates customized site layouts and allows the user to insert backgrounds (e.g. a floor plan or campus layouts), camera icons and company logos.
User Management — Flexible user management settings allow the administrator to assign each user with a permission level selected from the five ready-made levels of operational permission, or set the accessibility in a more customized way.
Sony Storage & Bandwidth Calculator
The Sony Storage and Bandwidth Calculator allows I.T stake-holders to make decisions about the amount of I.T resources the surveillance systems will require or can be given. This is based on numerous factors including.
How long you wish to retain footage for
What resolution you wish record at
What quality you wish to record at
What frame rate you wish to record at
What codec you wish to use
Click on button below to open the Sony Network Calculator.