This demonstration allows you to have full control of a PTZ (Pan Tilt Zoom) camera for a period of 3 minutes, after which you will no longer be able to control the camera.

SYSTEM REQUIREMENTS
This demonstration uses ActiveX technology to decode a H.264 video stream, You must open this page with a Microsoft Internet Explorer© web browser and the ActiveX installation must be allowed to proceed.
CAMERA SETTINGS & IMAGE QUALITY
This camera has a native resolution of 704x576px and a maximum framerate of 30FPS but for the purpose of this demonstration the camera has been set to 320x240px at 4FPS then (stretched) to 640x480px to accommodate for low bandwidth public access, so the actual image quality and responsiveness is far less than what you would experience if you were looking at this camera locally within your LAN.
PLEASE NOTE:
The speed and quality of this demonstration is dependent on a cumulative combination of factors including:
Speed of your internet connection.
The available "Upload" speed from our ISP.
The number of user's concurrently viewing this camera
The camera quality and stream settings.
LOADING ACTIVEX APPLICATION
Shortly after clicking on the green button at the bottom of this page you will be prompted to via a popup message whether you want to 'allow' the installation of this control, this message usually appearing at the bottom of the Internet Explorer page, click 'Allow' to initialize the installation then after a short period you should get a 2nd prompt, click 'Install' when the 2nd prompt appears, wait a few minutes, after which you should start seeing the camera's video stream.



FULL CONTROL
THE INTERFACE:
(Part A.) The icons that allow further control functions are located on the left.
(Part B.) This is the main viewing window where the camera image appears.
(Part C.) This is the Panorama image which represents a 360 degree span of the PTZ's field of view.
(Note: The Panoramic image is only visible once the "Control" icon has been clicked.)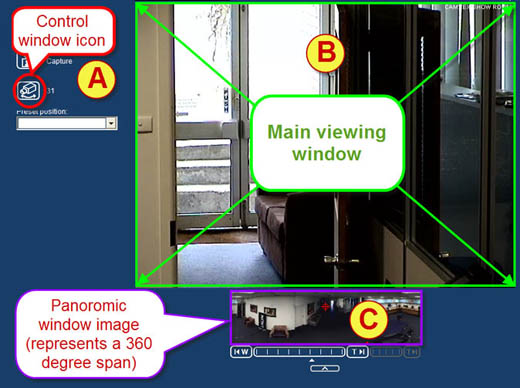 To enter full control mode click the "Control" icon (Step 1.) pictured below.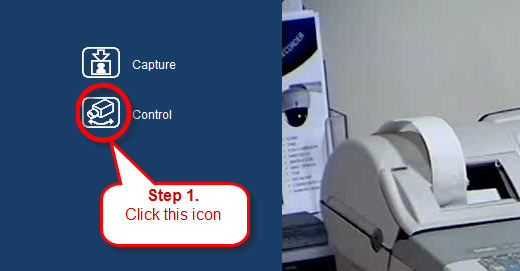 Once in full control mode The main viewing window and the Panoramic image at the bottom are clickable, which means clicking within this area will take the camera to the location you clicked on.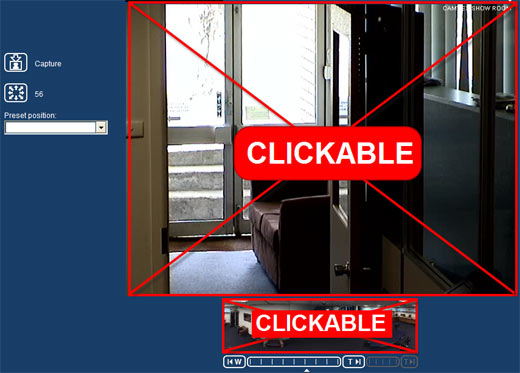 Zooming: To zoom draw a box around the area you want to zoom in on, in the example below we draw a box around the "S" and the camera zooms into that position.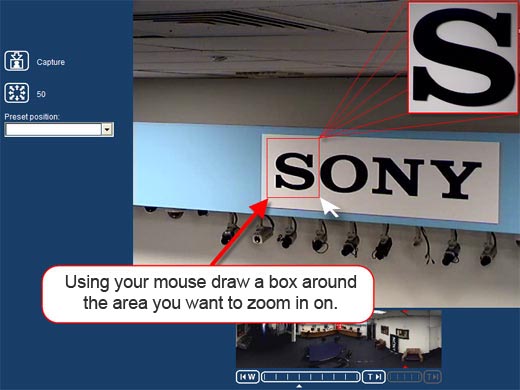 Click the button below to enter the demonstration.